Brand: Solstice Scents
Availability: Fall Limited Edition (Recurring)
Notes:
Hot steaming coffee, sweet pumpkin, cinnamon, gingerbread whipped cream and a drop of Nutmeg

First impression out of bottle: Savory coffee beans and spice

Freshly applied: Deep earthy coffee with a background of beautiful dark spice cake
Autumn perfection.
Drydown: Gingerbread muffin with a bit of brown sugar crust, yummy milky coffee, and a touch of fluffy whipped cream. I love autumn, but IDGAF about PSL's in general. I don't drink them nowadays or remember what they smell like (though I can guess) but this is heavenly. The coffee essential oil is like true dark coffee, not like the plasticky cold scent I get from Cafe Mallowmel. It's sweetened up by the gingerbread/cake notes and a dusting of scrumptious, non-generic fall spice. Not too sugary and definitely deepened by the coffee.
Such a great gourmand coffee scent
After several hours: Gingerbread with a hint of coffee and a lot of marshmallow-y vanilla cream. The whipped cream note gets stronger and it's gorgeously creamy and edible, like the light notes in Solstice Scents' many Mallow blends. The strongest spice note to me is nutmeg, with some cinnamon but no anise/cardamom/clove which means this is NOT a chai-type scent at all!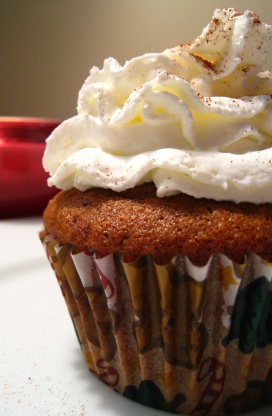 Amazing combo of dark cakey and light fluffy gourmand notes
Longevity: High
Sillage: Medium
Would an [X] lover love this? I think anyone who enjoys spicy or gourmand scents will ADORE THIS. I blind-bought a full size because 99% of Solstice Scents stuff works for me, and the description seemed like a no-brainer.
Would an [X] hater love this? I think even people who hate spicy bakery scents will like this, as it doesn't tip over to a "fall candle" scent, and it's definitely a sophisticated, ultra-realistic gourmand.
Where am I? Sitting in a coffee shop, wrapped up in an orange or dark green scarf, sipping coffee and writing a mystery novel or something.
Where would I wear this? Daytime, autumn, winter, weekend, work. It perks me up in the morning but is very comforting throughout the day.